Race Description
The Cause
In the spirit of the holiday season, Running of the Lights collects food for Second Harvest Food Bank. All participants are asked to bring at least 3 canned goods. A portion of your entry fee also goes to this great cause. You can learn more about them by visiting them online.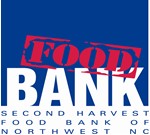 Running of Lights is a race like no other. It started as an avenue to provide family with a way to ring in the New Year in a healthy way with friends and family. The course winds through the Tanglewood Festival of Lights at the stroke of midnight. Participants can stroll through the Christmas wonderland at whatever pace they choose, and then relish in hot chocolate at the finish line. Start the New Year off on a healthy note!

The race starts at the stroke of midnight. We will celebrate the New Year with a Live Feed to New York's Time Square to count down the New Year and start the race!
Unfortunately, the Soup Ministry that usually provides the soup at the finish line had a family emergency and will not be available.
Finisher medals for all participants (5.5K and Fun Run)!
All participants in the 5.5K will receive Long Sleeve Dry-Fit T-shirts, Fun Run participants will have the option to buy a shirt during registration. If you register on site and we have run out of shirts, then we will place an additional order and mail a shirt to you.
Entry Fees
5.5K

$22.00 September 1 – 30
$27.00 October 1 – 31
$30.00 November 1 – Race Day

1.75 Mile

$10.00 NO SHIRT – September 1 – November 30
$15.00 NO SHIRT – December 1 – Race Day
$18.00 WITH SHIRT – September 1 – November 30
$20.00 WITH SHIRT – December 1 – Race Day
Packet Pickup

Saturday, December 31
12:00 PM – 5:00 PM
@ Fleet Feet Sports
278 Harvey Street (next to LA Fitness on Stratford Road)
Winston-Salem, NC 27103

Saturday, December 31
10:00 PM – 11:30 PM
@ Tanglewood Park
4016 Clemmons Road,
Clemmons, NC 27012
336-778-6300
Schedule
10:00pm: Race Day Registration Opens/Packet Pick Up
11:30pm: Registration Closes
11:45pm: 1.75 Mile Starts
12:00am: 5.5K Starts
1:15am: Projected awards ceremony (will be adjusted based on last finisher's time)
Parking
We will park participants in two locations on race day. We will fill up the designated parking areas next to the Pool Area. There are about 800 parking spaces available at the Pool Area location. Please arrive early. Once that location is full, we will have overflow parking at the Golf Country Club Parking Lots.
ALL PARTICIPANTS MUST ENTER TANGLEWOOD PARK THROUGH THE BACK ENTRANCE (EXIT) ON IDOLS ROAD.
YOU WILL NOT BE ABLE TO ENTER TANGLEWOOD PARK AT THE ENTRANCE ON CLEMMONS RD/HWY 158! THERE WILL BE A POLICE OFFICER AND A VOLUNTEER LOACTED THERE HANDING OUT DIRECTS TO THE BACK GATE.
THE GATE ON IDOLS ROAD WILL OPEN AT EXACTLY 10:00 PM AND CLOSE AT EXACTLY 11:45 PM.
DIRECTIONS TO THE BACK ENTRANCE ARE AS FOLLOWS:
IF YOU ARE TRAVELING I-40 EAST, TAKE EXIT 184
TURN RIGHT AND DRIVE THROUGH THE TOWN OF CLEMMONS.
IF YOU ARE TRAVELING I-40 WEST, TAKE EXIT 184, TURN LEFT AND DRIVE THROUGH THE TOWN OF CLEMMONS
GO THROUGH 3 STOPLIGHTS, CONTINUE UNTIL THE ROAD DEAD ENDS
AND TAKE A RIGHT. YOU WILL BE ON IDOLS ROAD
GO APPROXMATELY 1 MILE AND YOU WILL SEE THE BACK ENTANCE GATE HOUSE ON YOUR RIGHT.
THE BACK GATE ENTRANCE AND EXIT IS USED FOR RUNNING OF THE LIGHTS PARTICIPANTS AND SPECTATORS ONLY

Timing/Awards

Top 3 in each of the following categories:

Top 3 M/F Overall
Top 3 M/F Overall Masters
Top 3 M/F Age Groups: 0-7, 8-9, 10-11, 12-13, 14-15, 16-19, 20-24, 25-29, 30-34, 35-39, 40-44, 45-49, 50-54, 55-59, 60-64, 65-69, 70-74, 75-79, 80-84, 85+